TSO Champions eye doctors custom-design eye exams for children to control myopia & improve learning in Houston, TX.
Learn more +
DRY EYE TREATMENT CENTER
TSO Champions specializes in Dry Eye diagnosis & treatment featuring the latest technology from TearLab & InflammaDry.
Learn more +
Learn more about slowing or preventing the progression of myopia in children with Myopia Control at TSO Champions.
Learn More +
TSO at Champions serving Champion Forest & Spring, TX
If you are looking for an optometrist in Houston, TX, TSO Champions is your solution. Our office is located on Cypress Creek Parkway in northwest Houston and has been serving the Champions, Houston and Spring area for more than 27 years.
With professional eye doctors providing eye care services and eye exams to residents of northwest Houston, you are in good hands. Our eye doctors understand that getting the right prescription for your eye glasses or contact lenses is an important part of good eye care. Seeing clearly is just one part of your overall eye health. Our northwest Houston eye doctors, including Dr. Wayne Maltz, encourage you to have regular eye exams whether or not you wear eye glasses or contacts, and even if your vision is sharp.
Mar 19, 2019
Spring is a season of new beginnings, when the cold harsh winter months are behind us, flowers bloom, and people...
SEE WHAT OUR PATIENTS HAVE TO SAY.
Professional, this location made me aware of all my options when wanting to purchase glasses and contacts. They didn't make me feel out of place. Will call this my local optometrist
- BJapan929
Friendly staff and Optometrist. Took time to explain Optomap in detail and explanation of blood in eye pictures.
- Connor L.
absolutely loved my time at this TSO everyone was friendly. Abby was amazing, she helped me find my perfect frame and helped me more than i knew i needed! can't wait to go back 🙂
- Kaylin R.
I would pay cash to be seen here! I love it here. Everyone is so friendly and knowledgeable.-Deshawnda Thompson
- Shonda J.
Great selection of frames. Knowledgeable Doctors and helpful staff.
- Kathryn K.
Treatment was excellent... Love the Staff and Doctors
- Norma W.
The entire staff was friendly and provided me and my son a great deal of care. Yes! I intend on most definitely visiting them for our next year eye 👁 exam! Thank you for the Superior experience money well spent!
- Shamika H.
Book Your Houston Eye Exam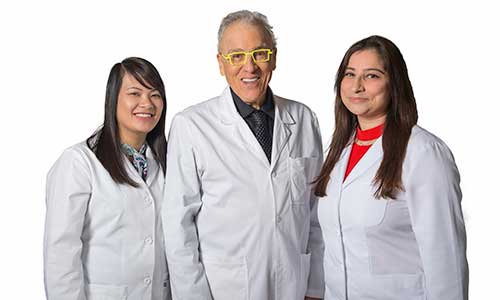 Schedule Your Houston Eye Exam With Our Caring Optometrists
Contact our eye care staff to book or request an appointment. You can also email one of our eye doctors with your questions or concerns. We look forward to hearing from you.
If it is time for your yearly eye exam call our office and we will help you book your eye exam. Convenient locations and a great staff will have you wanting to come back. Call us, today.
Q&A with Dr. B
Dr. Ayesha Butt Answers Your Eyecare Questions
What is Ortho-K and how can it help my child whose prescription has been getting stronger every year?
Ortho-K (short for Orthokeratology) is a non-surgical solution for patients with myopia (nearsightedness) that uses specially designed contact lenses to improve vision. When worn overnight, the ortho-k lenses gently flattens the curvature of the cornea, or front of the eye, resulting in a corneal shape that focuses light correctly onto the retina. When removed in the morning, distant objects will come back into focus and patients can see clearly without the use of glasses or daytime contacts. Ongoing studies shown that Ortho-K may help slow down progression of myopia and axial length elongation by causing a peripheral defocus on retina. Please call our office at (281)440-5887 to schedule an Ortho-K consultation to check if your child is a candidate.
Read More >>>