Monday:

9:00 AM - 6:00 PM

Tuesday:

9:00 AM - 6:00 PM

Wednesday:

9:00 AM - 6:00 PM

Thursday:

9:00 AM - 6:00 PM

Friday:

9:00 AM - 6:00 PM

Saturday:

9:00 AM - 1:00 PM

Sunday:

Closed
TSO Champions eye doctors custom-design eye exams for children to control myopia & improve learning in Houston, Texas .
Learn more +
DRY EYE TREATMENT CENTER
TSO Champions specializes in Dry Eye diagnosis & treatment featuring the latest technology from TearLab & InflammaDry.
Learn more +
Learn more about slowing or preventing the progression of myopia in children with Myopia Control at TSO Champions.
Learn More +
TSO at Champions serving Champion Forest & Spring, TX
If you are looking for an optometrist in Houston, Texas , TSO Champions is your solution. Our office is located on Cypress Creek Parkway in northwest Houston and has been serving the Champions, Houston and Spring area for more than 27 years.
With professional eye doctors providing eye care services and eye exams to residents of northwest Houston, you are in good hands. Our eye doctors understand that getting the right prescription for your eye glasses or contact lenses is an important part of good eye care. Seeing clearly is just one part of your overall eye health. Our northwest Houston eye doctors, including Dr. Wayne Maltz, encourage you to have regular eye exams whether or not you wear eye glasses or contacts, and even if your vision is sharp.
Nov 27, 2019
Are your children constantly misplacing their glasses? Do you know that Medical Identification pendants cannot trace whereabouts of your loved...
SEE WHAT OUR PATIENTS HAVE TO SAY.
Great place to have your eyes examined been going there for 12 years always satisfied
- Mr. C.
This location is the best my wife and I have experienced. Dr. Maltz gives a detailed exam and just seems like a great guy. 5 star plus rating. Janet did our fitting. Fun to work with. Found us the perfect frames and was exacting with eye measurements. Over the years our experience has been very good.
- Royse S.
The service was great
- Daniel S.
It was my first time here I took my daughter the stuff is very nice and very friendly also I like dr Ho she is very nice Great staff 😉 it was a good experience thank you 😉
- Nadia S.
You guys are amazing and wonderful staff of an eye care clinic. If need be I would like to visit again and again. Of course I will surely mention your excellent services to my peers friends and family. May you prosper well always.
- Kashaffs B.
Excellent vision care for dry eyes and eye presure care!
- John A.
(Translated by Google) Excellent services and product quality, as well as good attention and friendliness of the staff that work, provide information and culture for the acquisition of the product, good atmosphere and hygiene and cleanliness (Original) Excelentes servicios y calidad del producto,así como buena atención y amabilidad del personal que labora ,brindan información y cultura para la adquisición del producto, buena ambientación e higiene y limpieza
- ALFREDO F.
Book Your Houston Eye Exam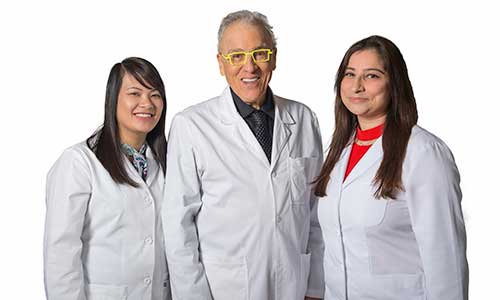 Schedule Your Houston Eye Exam With Our Caring Optometrists
Contact our eye care staff to book or request an appointment. You can also email one of our eye doctors with your questions or concerns. We look forward to hearing from you.
If it is time for your yearly eye exam call our office and we will help you book your eye exam. Convenient locations and a great staff will have you wanting to come back. Call us, today.
Q&A with Dr. B
Dr. Ayesha Butt Answers Your Eyecare Questions
What is Ortho-K and how can it help my child whose prescription has been getting stronger every year?
Ortho-K (short for Orthokeratology) is a non-surgical solution for patients with myopia (nearsightedness) that uses specially designed contact lenses to improve vision. When worn overnight, the ortho-k lenses gently flattens the curvature of the cornea, or front of the eye, resulting in a corneal shape that focuses light correctly onto the retina. When removed in the morning, distant objects will come back into focus and patients can see clearly without the use of glasses or daytime contacts. Ongoing studies shown that Ortho-K may help slow down progression of myopia and axial length elongation by causing a peripheral defocus on retina. Please call our office at (281)440-5887 to schedule an Ortho-K consultation to check if your child is a candidate.
Read More >>>